How To Measure For Shutters
Shutters are a great way to add style to your home. In some geographic areas, shutters can even provide protection against the elements. To ensure they fit your windows properly, read our guide to learn how to measure for shutters.
Before taking measurements for new shutters, decide whether you're installing your shutters for decorative or functional purposes. When measuring for functional shutters, the measurements need to be very precise to ensure they close properly.
How to Measure for Decorative Shutters
Step 1: Calculate Width


Shutters that are decorative in nature may be wider and more flexible than standard shutters. We recommend shutter widths of 25% to 33% of the window's total width. You may also use this chart for easy width recommendations.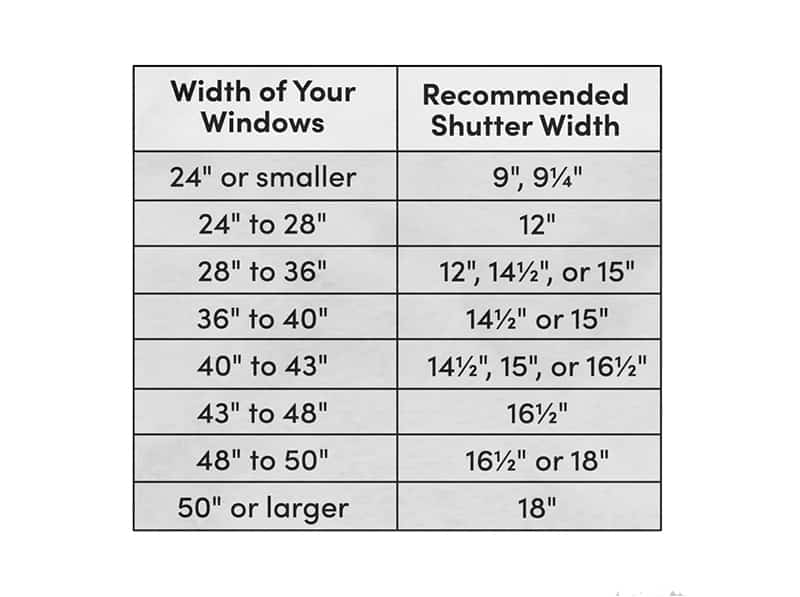 Step 2: Calculate Height

For shutters that are decorative, measure from the top of the window trim to the bottom of the trim. Take this measurement three times: once on each side of the window and once in the center. As your height, use the smallest measurement.
How to Measure for Operable/Functional Shutters
Step 1: Calculate Width


Functional, or operable, shutters must be precisely the same width to function correctly. Take your time to avoid headaches later in this process. From the inside left of the window opening to the inside right of the window opening, measure.
Do this at three points: the top, middle, and bottom. Use the smallest of the measurements as your window's width. Divide this number by two to give you your individual shutter width. For example, if your window measurement is 26″ at its narrowest, then you should order two 13″ shutters.
Step 2: Determine Height
Take another measurement from the inside top of the window opening to the inside bottom of the aperture. Take measurements at the left, central, and right sides. To determine how high you'll need your shutters, use the tiniest measurement.
If you're checking the height of vinyl shutters that will be able to be opened and closed, make sure there's at least a 1/4″ gap on each end when measuring their height. Vinyl expands and shrinks over time.
Let Us Help You With Your Special Project
Call for a free in-home consultation and estimate