Say goodbye to outdated screen doors and breathe a better, fresher view.
Stoett retractable screens are essential to making the most of your outdoor patio space and patio screens. Manual or motorized, Stoett retracting screens are made in the USA and help eliminate the things that bug you most about the outdoors. Additionally, enhance your outdoor experience with natural airflow and panoramic views.  For those harsh weather climates, Stoett offers clear vinyl screens as well.  Stoett retractable screens can also be combined with both a shade screen and vinyl screen.  Common applications include patios, lanais, pergolas, commercial space, and restaurants. If you're looking for a retractable screen to shelter your home or property from the elements then Stoett retractable screens are perfect for you.
PanoramaUltra
Retractable
Screens

PanoramaUltra
Garage
Retractable
Screens
PanoramaUltra
Retractable
Clear
Vinyl
StowAway
Retractable
Screen
Doors
PanoramaUltra Retractable Sceens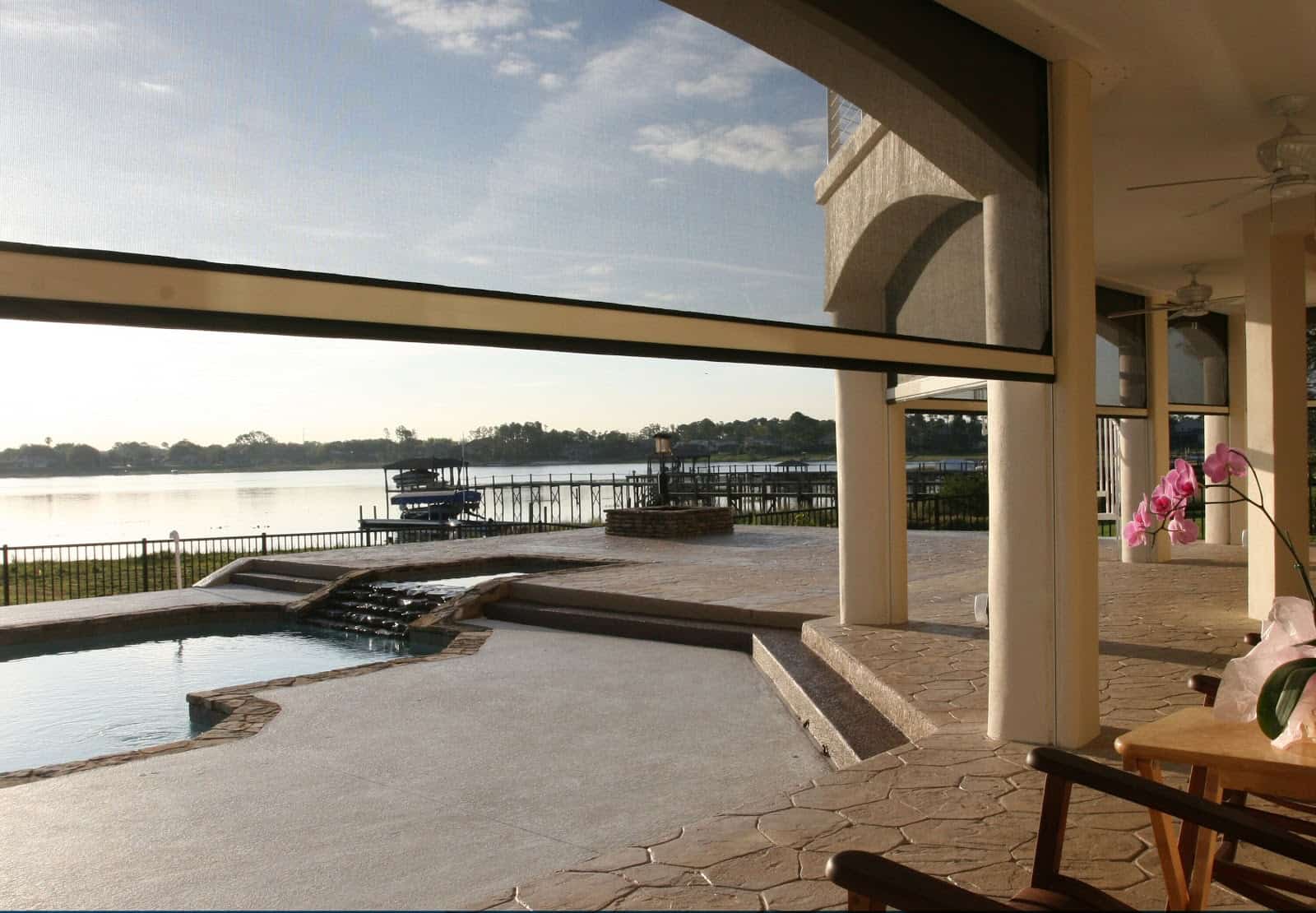 PanoramaUltra. The name sounds like quality. Appreciating superior materials, experiencing excellent views, and enjoying good times. PanoramaUltra retractable screens are made of the best materials and built from the ground up with American craftsmanship to ensure your satisfaction. Regardless of your specific needs, you can rely on Stoett's reputation for delivering the best products to you whether for your home, RV, or business.  PanoramaUltra can be configured in multiple ways in order to provide privacy and optimal protection from insects, weather, and the sun. Common applications include patios, lanais, pergolas, garages, and balconies.
Frame: With a sturdy frame that fits most openings and simple installation for both DIYers and contractors, the PanoramaUltra system can make your outdoor space beautiful and fun to use.
Fabrics: Each PanoramaUltra Screen is custom-made to fit your space. Explore the different fabric options below to create your personal PanoramaUltra Screen.
Flexibility: Not only does the PanoramaUltra retractable screen system have flexible uses (defense against insects, harmful UV rays, and inclement weather) but there are also multiple mounting options to blend in with your home or business architecture and design.
Functionality: If you're looking to make an outdoor space for your guests that is comfortable and attractive, the PanoramaUltra is the screen system for you. The retractable screen functions as a privacy screen, protection from UV rays and insects, or curtain against bad weather—easy to open or close in seconds.
Features
Up to 24ft Wide x 13ft Tall
Multiple Mounting Options
Many Color Options
Robust Screen Retention
High-Grade Structural Materials
Motorization & Remote Control Options

Product Brochure
Proudly Made in America and purpose-built to give your garage a level of flexibility unmatched by other outdoor solutions. Built for single or double-size garages, PanoramaUltra Retractable Garage Screen can be installed with ease for the avid do-it-yourself individual.
These screens can be manual or motorized and are completely sealed off from bugs because of the screen being anchored into the track.  Shield your motorcycles, golf carts, and all your favorite toys from the elements while your garage door is up. You choose your own personalized design, color, screen type, and automation system.  Give garage another level of privacy with our shade screen options.
Features:
Above Header Exterior Mount: Creatively designed to be the perfect retractable screen solution that gives your garage instant curb appeal.
Below Header Between Jambs: A more discrete retractable screen mounting option that seamlessly integrates between the garage door jambs.
Garage Frame: All durable powder-coated aluminum frame is designed to give our customers the best retractable screen experience possible. Choose either black or white.
Mesh Screen: Our standard heavy-duty screen mesh resists deterioration, punctures, tears, and mildew. Available in black or white.
Specs:
Manual Spring Assist Operation
4' Operating Assist Extension Hook
All aluminum powder coated frame. Black or White
Heavy Duty Insect Screen Mesh. Black or White (Nosseum Available)
PanoramaUltra Retractable Clear Vinyl
Stoett's weather-resistant retractable screen is designed to protect your porch, patio, and outdoor eating spaces.
PanoramaUltra clear vinyl retractable screens add an extra level of retractable comfort with the ability to withstand harsh weather on those inclement weather days. Practically invisible when they are closed, and easy to open with the touch of a button, PanoramaUltra offers you extraordinary peace of mind. Combine Stoett's clear vinyl retractable screen with a shade screen for the ultimate outdoor patio experience. Common applications include patios, lanais, pergolas, garages, and balconies. Vinyl screens are compatible with residential, commercial, hospitality, and restaurant environments.
Features:
Durable Design
Keeps out wind and rain
Easy Operation
Multiple Fabric Options
Porch & Patio
Outdoor Eating Spaces
StowAway Retractable Screen Doors
StowAway Retractable Screens bring the comfort of the outdoors into any living space without the need of worrying about outside life entering your house!
Standard: Strong, stiffened fiberglass mesh
Solar: Blocks additional sun's rays from standard mesh (available in both medium and max blocking ability)
Noseeum: Extra-fine mesh provides protection from smaller insects called "no-see-ums"
Pet: Heavy-duty screen resists damage caused by pets
Features:
Matches any door
Flexes on impact
Easy Operation
Maximum Size: Single door up to 4'W x 9'H

Product Brochure
STOETT SCREENS
WHAT DO THEY COST?
Our competitors like to give a price range that is usually not realistic or deliberately low. Every Job is unique and prices will vary greatly. We prefer to explain all of the options available and give you a fair and accurate estimate.