New Horizon Composite Shutters
Because Beauty Should Last Forever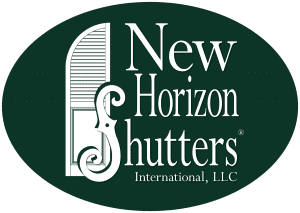 New Horizon Shutters' patented technology allows them to manufacture the most customizable and longest-lasting exterior shutter on the market.  Their dedication to innovation has enabled them to create polymer composite shutters in the exact style and the exact specifications that you require.  We don't like saying "no" which is why we offer the best exterior shutter for the best value and with the easiest total process.
We build shutters that last a lifetime. Our patented design has been proven for over a decade and comes with a lifetime warranty. We use a revolutionary patented process that takes exterior shutters to a new level, unmatched by any traditional shutter in the industry.
The Artisan Series is the crème de la crème of any shutter design. Each of the shutters in this Series is signature designs of New Horizon Shutters featuring historical and regional vernacular flavors that have stood the test of time.
The Classic Series of shutters is assuredly a class above the rest. All of the shutters are hand-built by our highly skilled craftsmen and artisans. Each component of the Classic Series complements and enhances the structural integrity of these architectural shutters allowing you to offer a shutter that will last you a lifetime.
The Deep South Series provides an additional dimension of style and grace to any design. It is the most handsome shutter which is why it is favored by most architects.
The E-Class Series is for more budget-conscientious projects, but still offers the elegance and prestige of the other Shutter Series. The E-Class Series is constructed in the same way as the other shutter lines to give you the same structural stability. If you are looking for more customization options, view the Classic Series.
Options:
Decorative Tilt Rod option – Used to give shutters the appearance of operable louvers.

Rabbeted Stile option – Rabbeted Stiles overlap each other to provide a tight fit and beaded distinction.

Copper Cap option – Gives shutters the appearance of authenticity.

Horns option – This detail is popular in New England.

Cutout option – Customized to the shape of your choice.
Beading option – An attractive detail for added dimension.
COMPOSITE SHUTTERS
WHAT DO THEY COST?
Our competitors like to give a price range that is usually not realistic or deliberately low. Every Job is unique and prices will vary greatly. We prefer to explain all of the options available and give you a fair and accurate estimate.