Traditional Authenticity
Wood shutters are appealing to the eye and fit well with many different windows. They are also a great way to add beauty and character to any home. Exterior wood shutters speak of tradition and authenticity and will keep your home looking modern with clean lines. Adding shutters is one of the few improvements that provide a return on your investment when it's time to sell!
We offer many styles of exterior wood shutters that will complement your home's architecture and boost curb appeal including board and batten, bahama, raised paneled, and fixed louvered window shutters. GCS offers wood shutters of the highest quality with expert craftsmanship; made from real Cypress, Mahogany, or Spanish Cedar planks, each shutter is available in paint grade or stain grade. When properly maintained, exterior wood shutters can last decades and longer.
Wood shutters are a good choice for many reasons. They have a nice aesthetic appeal to them and fit well with most windows. The exterior wood shutters are appealing to the eye and offer a return on investment when it is time to sell your home. Wood shutters also speak of tradition and authenticity, as they have been used for hundreds of years in old homes throughout history.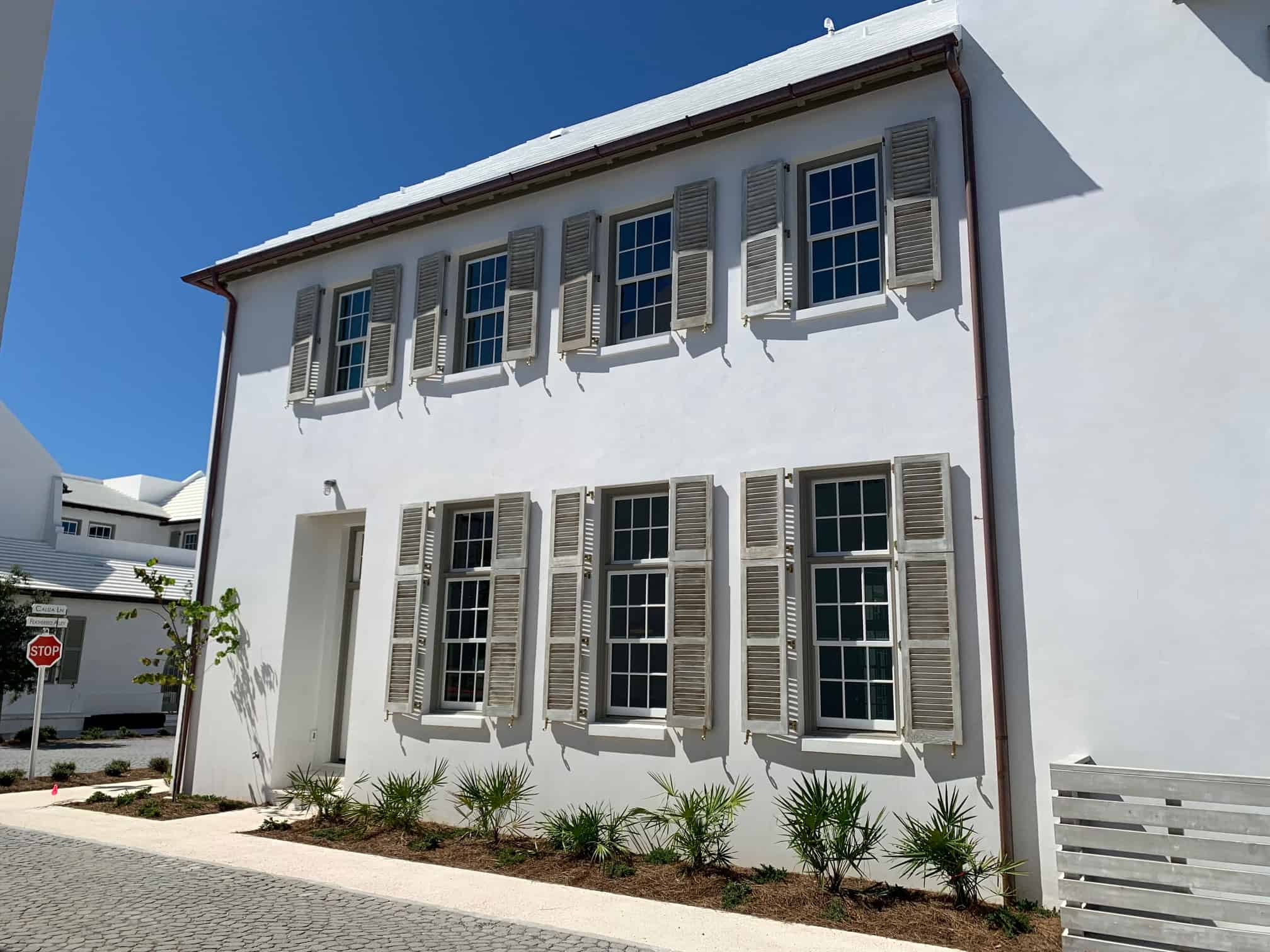 Wood shutters have a long history in the south and add aesthetically appealing beautiful designs. If you enjoy natural light but would like to limit intense sun rays, exterior shutters offer a solution by allowing the right amount of sunlight without sacrificing privacy for your windows.
Another wonderful advantage of wooden shutters is that they provide a strong shelter from the weather and a great layer of protection to your windows. If you choose functional wooden shutters, They are great for limiting the amount of sunshine that enters your home and ensuring that anyone on the outside of your property has a tough time trying to look in. This makes them an excellent choice for homeowners who like to keep their inside blinds and curtains open while still keeping the inside of their home at a more pleasant level of illumination.
The five varieties of exterior shutters are: Louvered, raised panel, flat panel, board and batten, and Bahama. Consider the many types of shutters accessible and whether you want louvered or raised panel shutters for your house, as well as other characteristics such as size, design, security, or protection from the elements when deciding which sort of shutters to install.
Louvered: Louvered shutters are constructed of angled slats that allow light and air through. Louvers are well-known, with a distinct look that goes with any outdoor scenery. They're commonly used in colonial, Victorian, Italianate, and other traditional styles of homes.
Raised Panel: A panel that rises from the bottom is a characteristic feature of this sort of shutter. The appearance of this style of shutter is comparable to that of kitchen cabinets or doors. They go well with country homes since they are rather basic in design.
Board & Batten: A variety of shutter types exist, each with its own distinct features. The most basic form is the pair of shutters joined by a cross panel (battens), which may be horizontal or slanted across the front. These are excellent for brick and stonework siding, as well as farmhouses.
Bahama & Bermuda: In the Bahamas, louvered shutters that are fastened to the top of a window rather than the side are known as Bahama shutters. These are frequently used in tropical regions to shelter windows against wind and snow. They also keep rooms from excessive light and strong winds.
Flat Panel: They're also known as shaker shutters since they feature flat, solid panels. They work well for blocking out the elements and bright lights. In terms of design, they are appropriate for any house, although country-cottage and modern homes favor them.
Features:
Highest of quality
Available in 

Cypress, Mahogany, and Spanish Cedar

Available in paint grade or stain grade

Appealing to the eye and fit well with many different types of windows

Speak of tradition and authenticity

Wood shutters last longer when properly maintained

Great at limiting the amount of sunlight in your home

Provide security from prying eyes
Types:
Louvered
Raised Panel
Board and Batten
Bahama and Bermuda
Flat Panel
WOODEN SHUTTERS
WHAT DO THEY COST?
Our competitors like to give a price range that is usually not realistic or deliberately low. Every Job is unique and prices will vary greatly. We prefer to explain all of the options available and give you a fair and accurate estimate.